Now this is what I call a decent weather forecast (as of this morning):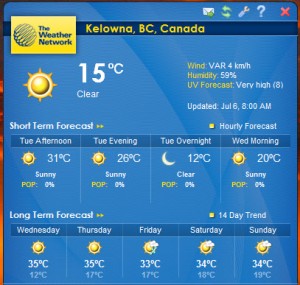 Yes, I know this sounds odd … to admit that I was watching TV while we are having the most gorgeous summer weather. But it wasn't for very long, and only on Saturday morning. First there was the Germany soccer game to watch, then the start of the Tour. I have been trying to catch at least one hour of the Tour each morning since then, even changing my regular swim time to 6am so that I can enjoy some cycling action with a cup of coffee before starting the day. It's great that our Canadian broadcast is early in the morning (5.30am to 8.30am), makes it much easier to fit it into your day.
Last Thursday was Canada Day, and a group of us decided to celebrate it with a climb up a local mountain (Blue Grouse). It was a good climb and a fantastic view from the top! Check out the pictures here. After a shower and some cleaning up, we met at Tom and Mona's house for a potluck, pictures/videos and a movie. Overall, a wonderful day with fun active people, and with a great reward for our efforts during the hike (I heard we finished 10 bottles of wine between all of us – I guess we had to rehydrate!) ……(read more)
Read details
Another wonderful weekend has come and gone. It started with a fabulous swim on Friday morning in a warm and very calm lake. We swam for 3.4 km before grabbing a coffee at Starbucks.
On Saturday, a goal I have had for a while became reality: Hiking the High Rim Trail. This trail runs from Highway 33 at Philpott Road for 57km all the way to Cosens Bay in Vernon. We hiked the section from Goudie Road to Beaver Lake Road, about 20km (or 24km for us with an "oops" out and back). Our group of 10 included my friends Mona, Tom, Kristen, Bev, Lisa and Graham as well as 3 of Bev's coworkers (Steven, Pat and Dallas). A great bunch of people!  Here is the GPS
We enjoyed wonderful views of Kelowna and the surrounding valley, and hiked through many different types of vegetation (dense woods, swamplands, lush fern-covered areas, exposed dry sections, etc.). Steven, the bird expert, was able to identify many different species of birds during our (almost 8 hour) hike. The lunch and snacks tasted so good while on the trail!
Read details