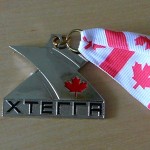 Pre-XTERRA: This weekend will see the first ever XTERRA (off road triathlon) in Kelowna, organized by Rob Swan. I decided to give it a try … even though I like my road bike, skinny tires on clean roads, no ruts or logs, just dry roads with lots of traction 🙂 It will be a great adventure and I will update this when done (on Sunday).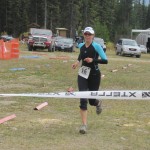 Post-XTERRA: Soooo much fun! I had a great time today at Kelowna's first ever XTERRA. I really enjoyed the swim (some were saying the water was cold???), mostly had fun on the
bike (I did crash once and have big bruises to prove it!) and love the trail run. In the end I came in as the second woman in the Sport Triathlon (short course) by only 25 seconds … not bad for a non-mountainbiker 🙂 This could become a tradition as a season-end race!