Too much time has gone by since my last post. I'm not really sure what happened … "busy" can't always be an excuse. The end of the semester (March/April) was busy with grading and teaching. After a bit of a "breather" towards the end of April I am now teaching 4 online courses (2 for Thompson Rivers University, 2 for Okanagan College) during the summer. It is more flexible than face-to-face classes but also takes quite a few hours on the computer, especially since 3 of the 4 are new classes for me.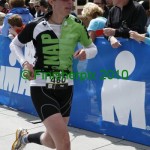 The Ironman Boise 70.3 was an interesting event: Too cold and windy to ride the full bike course (90km), it was shortened to 15 miles (to get us from T1 to T2). By the time we got there (some were actually riding in their wetsuits!), it was nice and sunny, and I had a great half marathon run!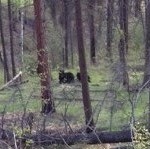 I have since increased training time and am starting to feel more and more prepared for the big race on July 1 (Ironman Austria). The legs are holding up well, and the bike rides are getting longer and stronger. I am still only running on trails – my recipe to make the legs strong and have fun while training. Also: For the wildlife! See the picture below, when we ran into a mama bear with three cubs.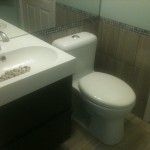 Most of May so far I have been busy renovating all three bathrooms in the house. Gutting the floors and vanities, tiling, installing new vanities, painting, etc.- a big project! I had help from some experts but lots of work still needs to be done by me. Mainly painting and regrouting the shower. The powder room downstairs is done and I'm attaching a picture.
There have been travels and trips, and I will be posting new pictures this week. Back soon, I promise!