The time in Europe went by way too fast! We've already been home over a week now, and everything is back to normal. It is full blown summer here in Kelowna, with 30+ degrees every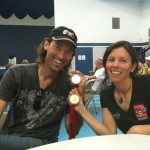 day. The lake is more than 22 degrees warm, and I have been swimming almost every morning. My last open water swim race, the Rattlesnake Island swim on August 13 went very well … second woman only 10 seconds behind first (a young kid). All I wanted is to improve my personal best, and I did!
The rest of our time in Germany was a lot of fun …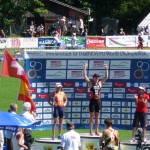 On Friday, July 30, we left for Immenstadt im Allgaeu. This quaint little town was hosting the ITU Long Distance World Championships, and we met the other officials for a meeting and course review on Friday, spent the night in Memmingen, had breakfast with my sister and her family on Saturday morning, went back to Immenstadt for another meeting, and then stayed there for 2 days, officiating at the race and gaining experience in international triathlon organization. It was a lot of fun, about 500 age groupers and 120 elite racers from all over the world battled the difficult course. We enjoyed meeting the Bavarian Triathlon Union representatives and had a great time. Of course we visited the expo (cool new tri stuff!) and received some souvenirs to remind us of this experience.
Following our time in Immenstadt, we drove past the Castle Neuschwanstein (do not get out of the car, too many tourists!) to Murnau where we visited an old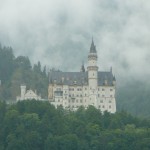 friend of mine. After coffee and a dip in Staffelsee, we drove to Munich where we were lucky to be able to stay in his apartment for two nights. A full day was spent walking around Munich and taking in this wonderful city (I lived there for a year). Next stop was Regensburg, about 2 hours from Munich, where I lived and studied for 7 years. It is a very old historic town, actually designated as UNESCO World Heritage site. It feels amazing when the bridge across the Danube you're using to get to the beergarden was built in 1060!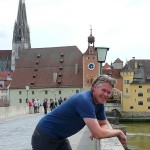 We also were lucky to catch up with an old friend there, stopped at the Walhalla in the morning, and drove on to Zell am See, Austria. My good friend Eva runs a hotel in this ski/lake town, and we had a day to visit with her. The drive home through Innsbruck and Arlberg was spectacular!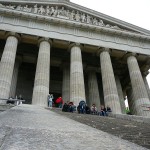 After a few more days back home in Konstanz (relaxing on the beach), we had to catch our flight home. It is too bad that time always flies when on holiday! Thank you to my parents for their hospitality and support!