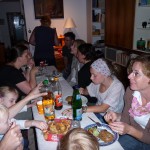 Spent a wonderful birthday here in Konstanz! Not only were we spoiled with yet another yummy breakfast, I even got to spend two hours in a spa in downtown Konstanz, courtesy of my sister. It was GREAT to get spoiled for so long, and my feet and muscles feel wonderful now!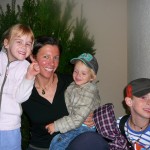 In the evening, we enjoyed a great party with both relatives and friends: My cousin showed up for a surprise visit, my sister still had a few hours to spend before heading home (she had to work the next day), and I got to catch up with old friends. Some of them I hadn't seen in many years, given that we just had our 20 year high school graduation anniversary. We couldn't get through all the memories and gossip so will have to meet again before I leave.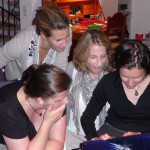 The food was delicious and my mom did a wonderful job filling everybody's tummy. First thing I had to do the next morning is to run some calories off 🙂 (we did a great run through the forest around Litzelstetten).
Today, another highlight: A hike up to a mountain called Hoher Kasten, in an area of Switzerland called Appenzeller Land (like the cheese). Elevation gain was about 900 meters, and the views were spectacular (Garmin download here). Mona, you would love hiking in Switzerland! Photos will be posted in the Gallery soon.