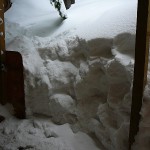 The trip to Mt. Baldy last weekend turned into a major snow-shoveling adventure: 3 feet of snow had
falling in the 5 days prior, and everything, including staircases, parking bays and patios, was covered in A LOT of snow!
After the work was done, we enjoyed some great xc ski and snowshoe outings … tiring out the dog and ourselves!
A late night walk on Saturday turned out to be a once-in-a lifetime experience: With everything covered in so much snow and the moon unusually bright (apparently the brightest in 18 years!), I could not stop admiring the night sky and the winter wonderland around me.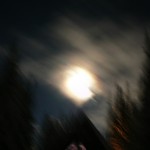 We could have easily downhill skied just in moonlight, that's how brightly the ski runs were lit by the moon!