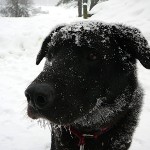 Just got back on Sunday night from another wonderful weekend in Winthrop! The snow conditions are great at the moment, and we got to ski lots! On Friday and then again on Sunday, we took Kootenai and two "loaner" dogs to Big Valley. The dogs just love getting out and running on this dog-friendly trail. It goes by the river and across a big field and is really scenic.
On Saturday, we tried rifle shooting at the biathlon range in Mazama and did really well … of course, that was without skiing your lungs out on the trails! I can't imagine aiming and hitting anywhere near the targets with a pounding heart and fast breathing. Then we tried the "Cowboy Races", trying to rope in wooden cattle that were being pulled … so swinging the lasso and trying to catch them while on skis! That didn't work out so well …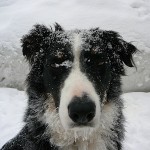 Following that, we skied from Mazama towards Lost River on the big Jack's Trail loop. The snow was superfast under the trees, and before we knew it, we were up to 25 km when we got back to the car. I just couldn't get enough and continued on the Community Trail, making it a total of 37.4 km on that day and a big appetite for pizza in the evening!
I was sad to leave the Methow, as always. Back soon!