I just finished the second of racing three weekends in a row! On September 17, my annual pilgrimage to the Grand Columbian Triathlon in Grand Coulee was again a very enjoyable experience. The new race directors have brought back the Ironman distance and have even added a super tri for good measure … even longer than Ironman! It is a grassroots event that reminds us what our sport is all about: great people, having fun, smiling and thanking the volunteers.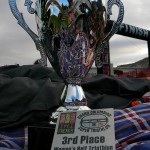 I completed the (warm) swim in first place, had a decent bike (honestly having fun the whole time despite losing my nutrition bottle!) and running a strong half marathon (5:09min/km pace is decent for me in this distance). I came in third overall in the women's race and brought home a shiny trophy!
This past weekend, the trail running quest continued with a 21km half marathon trail run in Kamloops. The second Dirty Feet race of the season for me, and with the legs still a bit tired from the half ironman the hills seemed steeper than ever but it was a great race nevertheless. Some steep parts, very gusty winds along the ridge, and lots of up and down. Final time was 2:08:12 and I'm pleased! There is a possibility that 2012 will see me racing even longer distances on the trails … it just is a lot of fun. I don't think I have done a single workout on roads this season other than races ….
In a few more days, one of the last races of the season (still some xc races to come in October) will be the Kukio Blue Water swim … 1.2 miles in the warm ocean, can't wait!