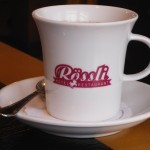 You probably would have guessed that I would spend at least a day skate skiing while here in Europe 🙂 I did … today … Suisse style! While we typically drive to our ski destination in Canada, I decided to use train and bus today to get into
the Swiss Alps. No worries about road conditions, stress-free travels, and about as fast as driving. One can read, enjoy the scenery, go to the bathroom, chat with the locals. So here is how this worked:
7:00 am: Leave my parents house on foot, dressed for skiing (small backpack with some food, camera, etc.)
7:08 am: Take the bus into Konstanz
7:30 am: Arrive at main station, buy ticket, change some money into Swiss Francs. It costs about 39 Euros for a day ticket to take trains or buses anywhere in Eastern Switzerland all day
8:03 am: Train from Konstanz to Weinfelden, arrive 8:27 am
8:32 am: Leave Weinfelden (train), arrive Wil 8:55 am
9:02 am: Leave Wil (train), arrive Nesslau 9:50 am
9:55 am: Leave Nesslau by bus, arrive Alt St. Johann 10:09 am.
It worked great! A North American might think these are tight connection times while Germans or Swiss consider them generous 😉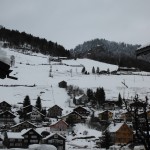 The trains do arrive exactly on the minute, so there is plenty of time (sometimes the next connection leaves from the same platform, other side; other times you have to use the underpass to get to another platform).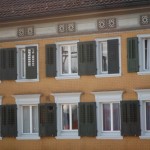 I arrived in Alt St. Johann which is in an area of Switzerland called Toggenburg. Other ski resorts in the area are Wildhaus and Unterwasser. I walked 200m to the sports shop, asked about the skis, then went to the "Gasthaus" to have a coffee. Freshly caffeinated,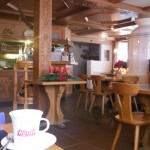 I rented nice Peltonen skis (the Swiss don't mess around with crappy skis!) and Salomon boots – looked like yours, Tom! The valley had plenty snow, even though it was a bit soft. But so much fun! I skied about 1hr 45min, 15km, didn't hurry and stopped for pictures. Up and down the valley, to Unterwasser and the other direction. Mona, you would love skiing from village to village and then stopping for treats 😉 Geoff, you would love the inscription above the tables in the Gasthaus: Food without wine is like life without sun.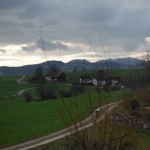 The journey back was comparable, just a bit faster, and I arrived back at my parents' house at 4:30pm. This is what the train ride looked like (click)! I'm glad I made it out, and I can't wait to ski again back in Kelowna. Pack that snow down really good for me, you guys have done enough face plants for the season 😉