When we started the xc ski season in November, we decided to make it our goal to ski all trails at the Nordic Ski Area this season. Yesterday, we accomplished that goal on a beautifully sunny day! We had three more trails to "cross off the list" and all of them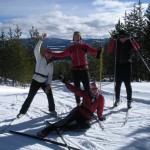 were black trails so our mission yesterday turned out to include some steep hills … But in the end it was all worth it! At the highest and furthest point (see photo), everybody was happy!
It was also great to have my friend Paul with us yesterday (he took the picture!). It was his first time at Nordic and hopefully he has great memories of it now.