Another wonderful weekend has come and gone. It started with a fabulous swim on Friday morning in a warm and very calm lake. We swam for 3.4 km before grabbing a coffee at Starbucks.
On Saturday, a goal I have had for a while became reality: Hiking the High Rim Trail. This trail runs from Highway 33 at Philpott Road for 57km all the way to Cosens Bay in Vernon. We hiked the section from Goudie Road to Beaver Lake Road, about 20km (or 24km for us with an "oops" out and back). Our group of 10 included my friends Mona, Tom, Kristen, Bev, Lisa and Graham as well as 3 of Bev's coworkers (Steven, Pat and Dallas). A great bunch of people!  Here is the GPS
We enjoyed wonderful views of Kelowna and the surrounding valley, and hiked through many different types of vegetation (dense woods, swamplands, lush fern-covered areas, exposed dry sections, etc.). Steven, the bird expert, was able to identify many different species of birds during our (almost 8 hour) hike. The lunch and snacks tasted so good while on the trail!

About 5km from the finish, we encountered a wonderful surprise when Lisa's daughter waited for us with treats such as wine gums and ice cold beer! At the pre-arranged end point, Beaver Lake Road, Lisa's husband Rick also had the beer waiting for us 🙂 Wow, did we ever get spoiled!
The day ended with a fantastic BBQ at the lakeside house that Lisa's family owns. A refreshing dip in the lake, lounging in the sun, lots of yummy food and many stories and laughs – it really doesn't get any better!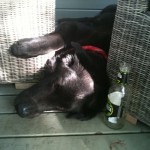 Kootenai also completed the hike (and probably ran an extra 20km during the day). During the BBQ, he could hardly keep his eyes open – while always making sure he wasn't missing any of the action: