Even though I have been back for 3 weeks, I am still trying to keep the sun of Hawaii inside of me for a little while longer! I do need it as the days are getting shorter, the lake swims less frequent (1-2 per week now but I have also started substituting with pool swims) and the first snow is falling in the mountains. November really is an"inbetween", too cold for cycling outside but no snow yet to hit the xc trails.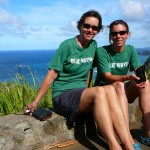 Watching the World Championships in Kona was again an amazing experience. The amount of talent and determination witnessed on that day is mind boggling as athletes dig deeper and deeper to give it all their bodies have to give. Among the 2000 athletes from around the world were our two local favorites, Laurelee and Heather (racing as pro). Both did very well and it was worth the exhausting day in the sun to cheer them on! (yes, isn't it pathetic that I complain about the supporting being exhausting while they race all day in heat and wind!)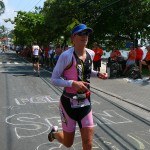 Our group from Kelowna had a great time and great results at the Kukio Blue Water swim (1.2 miles). Why wouldn't you swim fast when there is beer, smoothies, sandwiches, sushi and coffee/muffins waiting at the other end??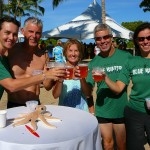 We also got to see a few of the beautiful corners of the Big Island again or for the first time … Waipio Valley, the lavafields south of Pahoa, Waimea, the Kohala Coast and Hilo. Just when we had gotten used to living in shorts and t-shirts, we had to fly back and brace for the Canadian winter. But honestly, I am just as excited about the ski season starting so let's bug Mother Nature so that she sends snow early! A weekend get-away to Sun Peaks in January is already planned …