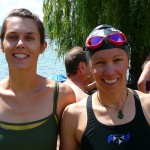 We have been in Germany for 3 days by now … jetlag is not too bad, weather has been pretty rainy but today was a sunny and warm day. The weather improved just in time for the 32nd annual lake swim here in Lake Constance. As opposed to the "heavily organized" Across the Lake Swim, this one is pretty simple: Get there an hour or two before the event, fill out the registration card (no waiver), pay 10 Euros and then hang out in the beach area until the swim starts. A record number of 415 swimmers registered today; many looked like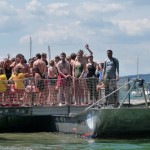 triathletes 🙂 A pontoon ferry takes everybody across the lake to Reichenau (an island in Lake Constance), and then everybody swims back (1.6km). It was a blast, my swim went well, the results are not in yet. Everybody gets the same medal at the end, a hot drink and the event is over. Simple, isn't it?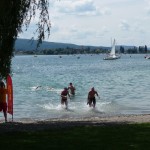 Tomorrow is my birthday and we are planning on having a small party in the evening with some high school friends and other friends who still live in Konstanz. More updates soon!