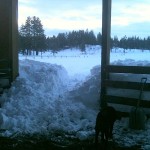 What a day! It started with the discovery that a major roof avalanche had cut off the horses from the arena (and the pony from getting out of the barn after the night). It took me a while to shovel out a small passage (Graham, you would have loved it!) so that the horses can move around again, and they actually seem to enjoy their little snow bridge now!
After my chores around the farm (Ellen, you would have love it!), I met with Dave for an update on what's been going on business-wise in the Methow Valley. Then Dave was kind enough to drive me to the "end of the road" (where the road is closed in the winter) and the start of the Methow Community Trail (MCT). This is just a few km's past Mazama. Thank you so much for that, Dave!
My goal was to ski the entire MCT today. I couldn't have picked a better day: Starting west of Mazama, it had started snowing and the groomed trails already had powder on them again. Going was slow in the beginning and I was cursing my wax 🙂 (Richard, you would have loved it!). But then it cleared just past Mazama and the snow was great … (read on)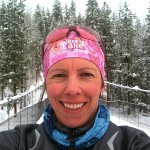 But first, after only 4.5km on the trail, I had to stop at the Mazama store for some "energy". I sat and had a great Americano (Joyce, you would have loved it!) as well as a fantastic pear/ginger bread (Mona, you would have loved it!). And of course, few things happen here without an enjoyable chat with the locals (Phil, you would have loved it!). I also couldn't help myself but do some gear shopping (Mark, you would have loved it!) so in the end I had to find a place for a Buff and a top … and they went around my neck! Must have looked pretty bulky in my shoulders 🙂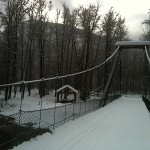 Well, what can I say, what a treat! 35km of fantastic skiing, great weather, warm temperatures, nice people. I stopped at the suspension bridge to take some pictures (Geoff, you would have loved it!) and otherwise just kept going. I had planned to stop at Brown's Farm but was so psyched when I got there that I just wanted to keep going! (Val, you would have loved it!) The hills in the middle section were shorter than I remembered and the downhills fast and furious (John, you would have loved it!)
In the end it took me 2hrs 48min … less than I had anticipated. Should have blogged from the trail! (Peter, you would have loved that!) My car was waiting at the trailhead even though I could have skied all the way home. The only regret I have is that my ski buddies were not here with me today and couldn't share this experience with me. Next time!
Click here to see the Garmin download from today (Tom, you will love this!). My legs are saying I burned more than 1000 calories and my heart rate never really goes to 229 but that must just happen when the strap is still dry (later on it was accurate).